Looks Like University Of Illinois: Elijah McCantos
Robert
May 13, 2022
[]
[]
6 Comments
You have currently viewed 1 story this month.
IlliniBoard now offers two free stories per month, for more please subscribe.
This is the one that will set the record, I think. Elijah McCantos committed to Illinois on November 30, 2021. I am writing his LLUOI article 163 days later. I know there was that one year (when Beckman was fired) where I paused writing LLUOI articles until we saw how many players would decommit under the interim coach (I believe the final number was eight), so that year I waited until February to write up some players who had committed in the summer, but apart from that I don't think I've ever gone 163 days.
In fact, I know that's not the case. I've been months behind before, but every time I've written the articles in order of when they committed. So I'd get behind, but I'd write the last one first. This time I let someone randomly pick the order, and McCantos was 6th on that list, so that helps him set the record.
Here's where I am on that list, by the way. And I also have Terrence Shannon to write.
Elijah McCantos
Isaiah Adams
Naivyan Cargill
Raashaan Wilkins
Terrell Jennings
Dylan Davis
Antwon Hayden
McCantos might have completed his first semester at Illinois by now. Final exams run through today, but I've seen many tweets from players who have completed their exams and are already back home. This month is the biggest break of the year for college football players - most of the time it's a full month off from the end of finals (around May 10th) to the start of summer classes/practices (around June 10th) - so I'm writing about a kid who committed to Illinois, moved to Champaign in January, completed an entire semester, and is now likely back home in Florida.
I didn't get to see him during spring practices, though. He had an injury that kept him out of the entire spring. Bret Bielema mentioned it in a press conference, and I didn't write it down, but I'm 81% certain he said shoulder injury. So McCantos was rehabbing all spring. I had hoped to write this one after an in-person evaluation but... it didn't happen. Which means I'll spend the next several paragraphs talking about his high school coach.
It's the summer of 1989. You're 16 years old and you've purchased your first car, a 1984 Chrysler Laser (like the Dodge Daytona but fancier). You saved up your money to buy a tape deck and had it installed at Circuit City. You can now drive around your small town in the Metro East blasting whatever music you want (provided you had a tape collection). Sometimes you'd actually use your mom's tape recorder to record the Top 5 At 5 on KHTR so that you'd have those five songs on a cassette tape you could play in your car.
You keep a bunch of those tapes in the center console. And your mom would occasionally go through this collection of tapes to make sure you're not listening to the music that Tipper Gore was trying to get banned from the radio. So you keep those tapes in the center console... and then the other tapes in a cardboard envelope you'd slide under driver's seat. The two cassette tapes I could never let my mom find: N.W.A. "Straight Outta Compton" and 2 Live Crew "As Nasty As They Wanna Be." You honestly weren't even sure if you liked this music, but you were trying to socially survive the summer between sophomore and junior year and full knowledge of this music helped tremendously.
OK, that's not exactly true. You absolutely loved NWA's "Express Yourself" and can probably still quote Dr. Dre's verse 30 years later. Let's if I can remember it.
I'm expressin' with my full capabilities
And now I'm living in correctional facilities
Some don't agree with how I do this
I get it right and meditate like a Buddhist
I'm dropping beats, my behavior is hereditary
And my technique is very necessary
Blame it on Ice Cube...
I can't remember beyond that point. Let's see how I did. Hmmm... looks like "I get it right" is really "I get straight." And it's not "I'm dropping beats", it's "I'm dropping flavor." But other than that I'm there. I wore that tape OUT, man.
Anyway, the other tape under my seat was 2 Live Crew. I remember grabbing the 2 Live Crew tape out of my car because I was driving my sister's car to a high school football playoff game in the fall of 1989 so this was probably October/November of 1989. I just had to be very careful to not forget the tape in the tape deck and then I give my sister her car back and she starts it up and the 2 Live Crew song "Me So Horny" is playing and she tells mom and suddenly I'm grounded for 3 weeks.
So yes, it was a big risk to own a 2 Live Crew tape. I mean, they wouldn't even play the song on the Top 40 with Shadow Stevens because the lyrics were so bad. And some prosecutor in Florida took 2 Live Crew to court on obscenity charges (which probably tripled album sales because if they won't play it on the radio and they want to stop the sale of the tape then every sixteen year-old is thinking WHAT DOES IT SAY?), so my mom had plenty of ammo for grounding me if she found the tape. (I don't think she ever found the tape. But after my step-dad reads this to her, she'll know about it.)
Where am I going with this? The lead man of 2 Live Crew: Luther "Uncle Luke" Campbell. Elijah McCantos' high school football coach: Luther "Uncle Luke" Campbell. Now you know. If you want to read about how Uncle Luke has revived Miami Edison football, read this.
Next let's go to a scouting report on Mc-Cantos from Larry Blustein (basically Mr. High School Football in south Florida). If you know who Blustein is, you might have heard of his battle with Covid in January (he was on a ventilator for weeks but came through). This time last year, he wrote the following scouting report on Elijah:
The great thing about sports - and football in particular - is you can tell right away what kind of athleticism they possess by just watching. After seeing this impressive talent play just one time - a series of eight plays - you can understand why he is among the best for this class anywhere in this state. What you have is a rare combination of size, physicality to lineup at safety and the skill of a corner.

In addition to the impact he makes on the football field for head coach Luther Campbell and the Red Raiders, he is also a more than solid student in the classroom. Keep an eye out for him this off-season as well as during 2021, where he will most certainly be among the best football prospects in south Florida.
Tracking through his recruiting (chronicled on his Twitter account), it looks like his first offer was UAB in January of 2020. That year (2020, so after his sophomore season) he added offers from Toledo, Kentucky, Arizona State, Florida Atlantic, Syracuse, and Florida International. After his (Covid-shortened) junior season, so this would be last spring, he added offers from App State and Utah State before the big one came in on March 5th: LSU. That was followed by Penn State (the next day) and Michigan (in June). He tweeted a fair bit about Miami and Florida State, and he camped at Florida State in June, but it doesn't look like either offered.
He did tweet this "award" from a camp he attended in June, though:
In the fall, most of his tweets center around Illinois, West Virginia, and Washington State, so I'm guessing he was mostly focused on those three (I'm guessing that's partly him eliminating other teams, partly other offers no longer active). On November 30th, he commits to Illinois. He signs in December and arrives on campus in January.
Let's see, anything else from his Twitter account? Oh, yes - he tweeted a photo of him on campus with the other early-enrollee freshmen back in January so... I'm telling my kids this was 2 Live Crew: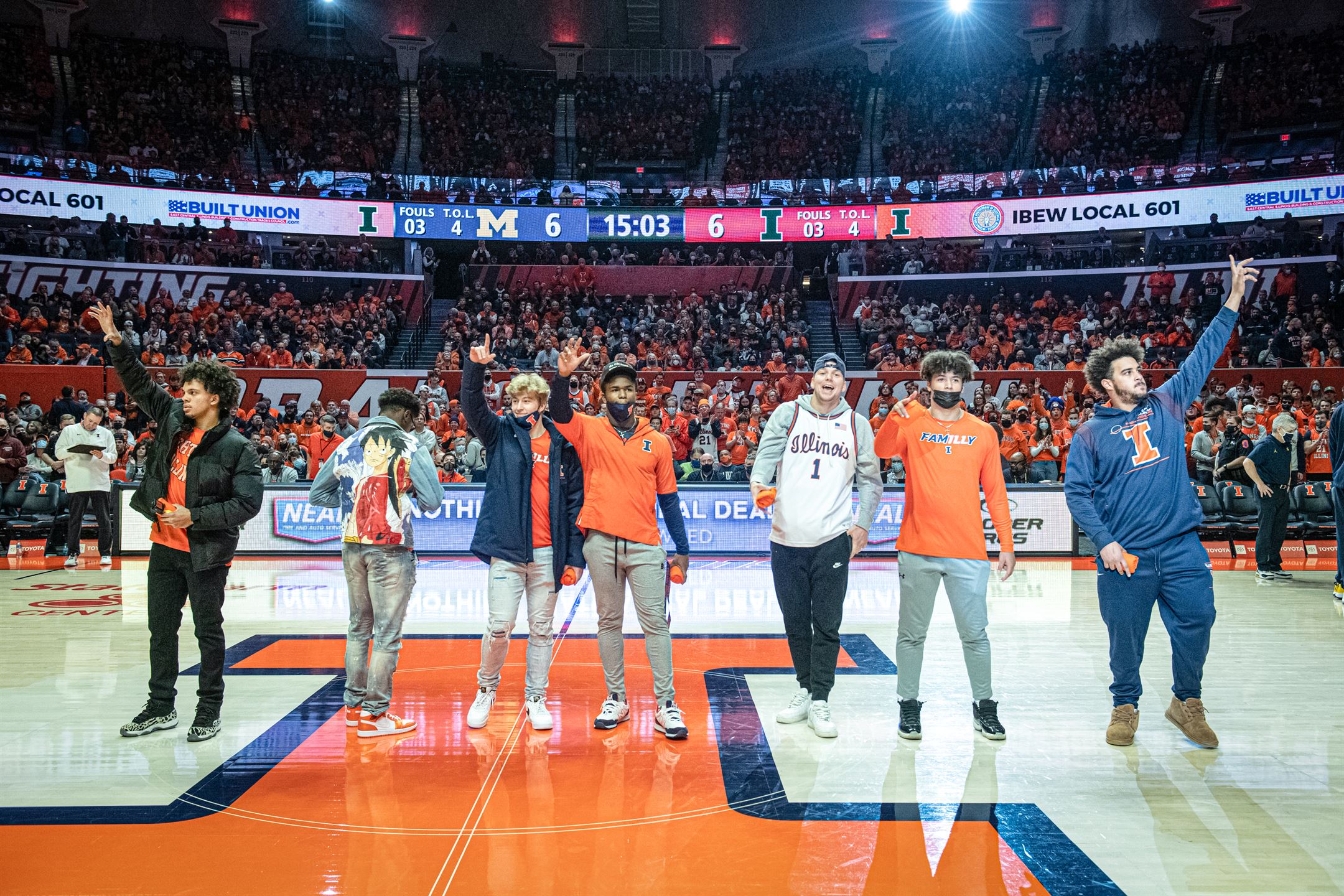 Film-wise, I sometimes think the best film for cornerbacks comes from spring and summer camps. That kind of film is somewhat useless for, say, offensive linemen vs. defensive linemen (I get annoyed at pad-less videos of some defensive lineman trying to "beat" a one-on-one block from an offensive lineman). But for corners and receivers (especially corners), I like watching one-on-one film in shorts. 82% of playing cornerback: being able to stop and start when a receiver stops and starts.
So here's a compilation of camp video that McCantos put on Twitter last year. This will be our film study for this article:
(This video wouldn't embed for some reason. And it broke the site. So you'll have to click on this link to watch it.)
OK, now go back to the clip at 33 seconds. And try to make the video full screen if you can. A large cushion there, yes, but that stop and start is what we like to see. Playing cornerback is basically synchronized swimming, and the corners who can match what the receiver is doing 0.23 seconds later instead of 0.41 seconds later are the corners who go to the NFL. You know those people who have that talent of listening to someone talk and matching what they say a quarter-second later? That's basically what you want in a cornerback.
So consider me a McCantos fan. In fact, when it was reported that Daniel Edwards had switched from corner to wide receiver this spring, I texted some friends my immediate reaction: "They must really like Mc-Cantos". I haven't seen him play yet, but with corner this thin (Leitzsey moved to safety this spring and Edwards moved to WR), they must feel really good about McCantos (and the corner from the portal, Terrell Jennings).
Hold on a second. I reported that Edwards had switched from corner to wide receiver. I noticed it at practice on April 16th and tweeted it. What is wrong with my brain that I would type "when it was reported that Daniel Edwards had switched from corner to WR" when I was the one who noticed it and reported it?
Anyway, I like this player. I like the early scout from Larry Blustein, I like the offers, I like the film. He's the #3 player in this recruiting class per the 247 Composite and the #2 player in the class per the On3 Consensus. ESPN has him as a 79, so one spot away from 4-star. His On3 Consensus rating is 87.03, so going back through the last five classes, that's closest to Reggie Love (87.13), Keith Randolph (also 87.13), and Kendrick Green (86.90).
Which means our run of decent Tom Cruise scores continues (and Isaiah Adams is next so it will... continue to continue). I think McCantos is a future starter, so I think I already know the score I'm giving out.
Elijah McCantos - Three and one-half Tom Cruises