Robert
Sep 22, 2022
[]
[]
6 Comments
My dad used to tell this Chattanooga Choo Choo joke and I feel like I need to start this SOC with that joke. I want to say the joke was on some comedy record he had? It wasn't his joke. But in 1979, jokes were the way you navigated the world, so he always had this one queued up.
Actually, I'd probably butcher the joke if I tried to tell it, so I'll just lead you to the punchline. It was something about Roy Rodgers getting a new pair of boots and leaving them outside on the porch and when he got up one morning the boots had been chewed up by a mountain lion. So he went out hunting and returned to the house with the mountain lion draped over his horse and Dale Evans asked him "pardon me Roy - is that the cat that chewed your new shoes".
And that's the Chattanooga Choo Choo joke my dad always told. I often wonder what he'd think about a world where "did you hear the one about the" jokes had mostly disappeared. I don't think he'd like it very much.
Also, as I'm telling you all of this, I'm realizing that many of you are too young to even know the song. The song says "pardon me boy - is that the Chattanooga Choo Choo" and so "pardon me Roy..."
I have to stop there. I can feel my dad's "never explain the joke" coming over me.
SO, the football game. Against Chattanooga. The one tomorrow night. Let's talk about it.
Let's start here even though it has very little to do with Chattanooga. I saw this image on Twitter today: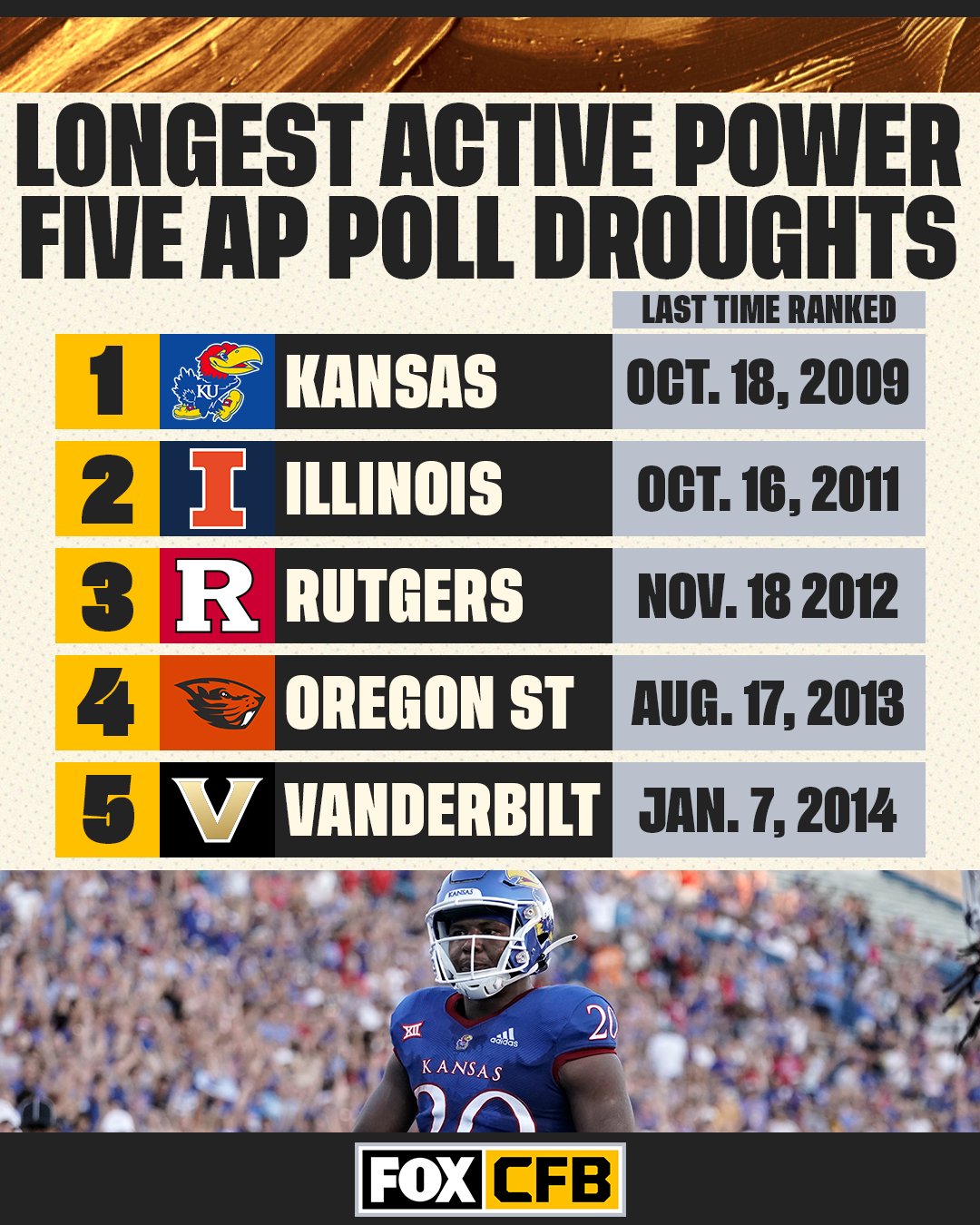 This is not a surprise to me. I would have immediately answered "fell out of the polls after the Purdue loss in 2011" if you came up to me on the street and asked me "when is the last time Illinois football was ranked?" I don't have an ounce of a HOLY CRAP reaction when I read that list.
What it does make me think about is Kansas getting 23 points in the AP Poll this week. They just won away games at West Virginia and at #24 Houston. The now return home for Duke, Iowa State, and TCU. If they beat Duke this weekend to go to 4-0 including a road conference win and a road win over a ranked team... is Kansas going to be ranked? And if Kansas is ranked, am I prepared for the new version of that list where we are the team with the longest unranked streak?
I am not.
Which immediately spins me back towards this season and "how do we get ourselves ranked so that we never have to deal with the possibility of that graphic being created?" With the Big Ten West in shambles, might we find ourselves putting together a winning streak?
For starters, we'd have to beat Chattanooga (obviously). Then we'd head to Camp Randall to play a Wisconsin team possibly coming off a blowout loss at Ohio State this weekend. The Buckeyes are favored by 18 in that one - just so insane. Not that I don't think Ohio State is good - it's just insane to see Wisconsin an 18 point underdog. After that it's Iowa in Champaign followed by Minnesota in Champaign.
So yeah, obviously, if Illinois were to beat all three (news flash: Illinois will not beat all three), Illinois would be ranked. But because of that Indiana loss, I don't think 2-1 in that stretch would get us ranked. 5-2 Illinois is not getting ranked. We'd have to win all three.
This just means that I'm a really big Duke fan this weekend. We're probably not getting anywhere close to the polls this year, so we need Kansas to stay unranked. Go Duke (puke).
What's that? Talk about this game? This is a Stream Of Consciousness post, good sir. I stream my consciousness. These are the things I've been thinking about. (But yeah, you're right - I should talk about it.)
The scary:
Chattanooga is a top-10 FCS team.
Chattanooga nearly beat Kentucky last year, and Kentucky won 10 games last year.
This is a trap game for us coming off a big win over Virginia and a possibly wounded Wisconsin on the horizon.
The not so scary:
This is still an FCS opponent with only 63 scholarship players. Depth is always a concern.
Our defense, so far, has been incredible and I don't think Chattanooga is bringing in an offense better than, say, Virginia.
We're likely more talented at... 20 of the 22 starting positions?
I guess the main encouragement I see here is that we just played the "10 penalties, 4 turnovers, 2 missed field goals" game and won 24-3. You always worry about these trap games being "we should have won going away but we turned the ball over four times and found ourselves tied with six minutes to go" but I don't think I see that tomorrow. I think I see a methodical, perhaps boring, low-scoring game where Chase Brown is the difference. They won't be able to rotate players like we will, so work on slowly wearing them down and wearing them down until they have nothing left in the final 20 minutes. And then maybe do the thing where we close out the game with a drive that ends with a kneel-out at the one.
I like that. Low scoring, methodical, and a win. (But maybe not a cover if the line is 18.5?)
Illinois 26, Chattanooga 9