Robert
Jan 27, 2023
[]
[]
6 Comments
I walk into the lobby and Mike Small is waiting for me with Tommy Kuhl and Adrien Dumont de Chassart. Small and ADdC are having a conversation about his swing. I don't know what the conversation is, but it's something about the right shoulder.
I don't know if you know this about golfers, but swing conversations are constant. They need to relate to a swing thought. Before I get to my story, let's talk about that.
The best part of golf is that there's no correct way to swing a club. There's the pure Bobby Jones swing of course, which is the same as talking about the Ted Williams baseball swing, but there's not a "correct" way to do it. There's only your way to do it. Consistency is the only thing that matters. If your club face is constantly open when you strike the ball and you send everything out to the right, yet it's consistently open at the same angle nearly every time, then adjust your grip at address to close the club face and you'll strike it pure every time. Golf: the only sport where two wrongs make a right.
The issue, of course, is achieving that consistency. And to do that, players load up certain swing thoughts in their head. A friend once told me his number one swing thought is to make sure it feels like he's using the back of his left hand to "flick" the ball. "When I'm swinging a club, I need to feel like I'm flicking a housefly off the edge of my plate. You know how a fly will land on the left side of your plate and you'll use the back of your fingers on your left hand to shush it away? I need that thought in my head when I'm swinging or else I get too right-hand dominant."
Golfers are constantly thinking about swing thoughts.
So it was no surprise when I showed up that Mike Small and ADdC were discussing... something like that. It's the language of golf. There were no clubs, there were no golf balls involved - they were simply waiting for a blogger who was late and talking golf like all golfers do. I'm sure there are conversations about launch angles with hurdlers across the street at the track facility and we know that the assistant coaches are working with Dain Dainja on his free throw form at Ubben but at the Demirjian Indoor Golf Facility, it's swing thought after swing thought.
I was there because I ran into Mike Small at the Texas game at Madison Square Garden and he suggested I come by the facility at some point. I asked to do that once the players returned from break, so before the Ohio State game on Tuesday, I went to Demirjian to get a tour of the updated facilities.
Practice was just about to start, and most of the players were already there. A facility like ours is one of the main reasons we have the top "cold weather" golf program in the country (well, that and having maybe the best golf coach in the country). If a college golfer at, say, West Virginia wants to work on short game in the winter, they can go to their perfectly flat indoor putting green inside an old dance studio:
If Tommy Kuhl and ADdC want to work on their shot game in the winter, they can go to this massive putting/chipping area with an undulating green providing any putt or chip you want to practice:
See all the different colored turf to the left there? Between the bunker and the wall? Those are all there to simulate different grasses the team might encounter in a given year. Playing a tournament in Florida on Bermuda grass? Go practice your chipping over here. Big Tens are at Galloway National in New Jersey? Practice on the bentgrass turf over there. A tiny bit better than West Virginia's "I don't know - maybe try chipping off the dance floor?" situation.
The height of the ceiling is important as well. This isn't just a putting green. It's a practice facility for every shot near the green. So if you want to bring it in low with some spin from 30 yards away from the pin, you can. If you want to try flopping it, you can. If you want to do that on a green that's running away from you, you can. If you want to try it on a green with a hill just beyond where you can play it to come off that slope, you can.
(I'm assuming that the walls are helpful as well. As someone who has tried to hit a flop shot and bladed it 60 yards a few dozen times, I'd imagine a nice padded wall saves a lot of walking to go get your ball. Sorry again about your windshield, woman working the pro shop at Sycamore Creek in Missouri.)
As you can see from the photo there, you can also practice every single kind of putt. I'm not sure the slopes come out in the photo, but you can try nearly every uphill, downhill, and sidehill putt you might encounter. While I was standing there talking to Tommy and ADdC, Jackson Buchanan drained a 50 foot double-breaker. These guys are good.
I had seen this part of the facility before, though. I wanted to see the new stuff. The expansion was complete around this time last year, so I wanted to see what had been added to what was already one of the top indoor golf facilities in all of college golf.
It's somewhat hard to explain how it was expanded. I made a screencap of the old facility (can't find an aerial photo that shows the expanded facility) but I can already tell that I'd get way too bogged down in site planning if I used that screencap. So I'll just say this:
The original facility had a long arc of hitting bays on the end. Stand inside (in a heated space), raise the garage door (one for each bay), and hit the ball outside. This expansion eliminates several of those hitting bays to create more indoor space (more on that in a minute). And then on the end they tacked on newer, more modern (TrackMan) hitting bays. More on that in a minute as well.
First I want to talk about the new indoor space. It's more or less 100% dedicated to putting. This has to be the top putting facility in the nation. And now that I've typed those words I want to see them on some pamphlet somewhere.
"Top putting facility in the nation." ~Robert Rosenthal, IlliniBoard, totally unbiased Illini golf fan
The first putting contraption is, well, I didn't take a picture of it because I'm dumb. But there wouldn't be much to show because it's just a simple raised putting green with cameras and screens everywhere. It's like... a TrackMan for putting? I haven't explained TrackMan yet, have I?
TrackMan refers to a golf launch monitor. More or less a machine with ridiculous cameras that can tell you every single thing about the strike you made on a golf ball. What was the launch angle? How much spin was put on the ball? What was the club face doing at impact? What was your clubhead speed and what kind of ball speed did you create? And then it calculates exactly how far the ball went.
The TrackMan bays are at the end and I'll discuss those in a minute. In the new indoor portion, this first putting green was, as I said above, kind of a TrackMan for putting. You hit a putt and then it tells you EVERYTHING. Were you opening the face just before you struck the ball (a push)? When you pulled the club back was it the same tempo as your previous putts or are you starting to rush things? Is the face square to the ball on the strike or are you still descending when you hit it?
Top putting facility in the nation.
The next part was the piece de resistance. I couldn't get over this thing. There's a circular part of the building (looks like a second turret from the outside) which houses this contraption:
"Contraption" is totally the wrong word. It's a... programmable putting surface so you can practice every single short-range putt. And not only can you practice, but... those lines on the surface? Those are from a projector up above. The thin line is the aim point. The thick line is the line that your putt should take to follow the break.
Top putting facility in the nation.
For this one I had to take a video. It's hard to see, but the entire surface changes to the putt you're programing into the system. If you look close at the grid that is projected down while it's making the changes, you can see the surface moving (and you can hear it moving as well). And then, when it's done, it draws out the line for your putt.
I immediately asked Tommy about different putting styles. Some people like to hammer the ball in the back of the cup (and would need less break) and some people like to die it at the hole. So he immediately changes the speed of the putt in the system and the line A) shows less break and B) extends further past the hole. Just like every right to left putt in history, right? You can take some of the break out of it if you want, but if you miss, it's going 4+ feet past.
This next part - I really should have had someone film this part. I asked if I could try it. There were putters leaning up against the wall and balls sitting there on the green. I needed to take this thing for a spin. As soon as I step up on the green, Mike Small walks in. Great, now I have to try to make this putt in front of The Legend.
In moments like that I'm immediately self-conscious about my putting grip. See, I'm a finger-down putter. When gripping the club, my index finger on my right hand extends down the grip. It's a big no-no with coaches (and with pros). Only a few professionals, Brooks Koepka being the most well-known, putt with their finger down the grip. So I'm certain Mike Small is going to say something about my grip. I get out in front of it with "don't say anything about my finger-down grip, now." I honestly don't remember his response because I was so in my head about this putt. I'm going through all this self talk in my head ("how hard can this be? there's literally a projected line for where to hit it") so I step up to hit this 12'-5" putt and...
Draino.
I hit it slightly inside the line (but with a little more pace). I thought it might lip-out low but she hung in there for me. And as I'm typing this right now I'm realizing that I didn't even go get the ball out of the cup. Maybe I should have turned to Adrien and pulled out the Jordan Spieth "go get that":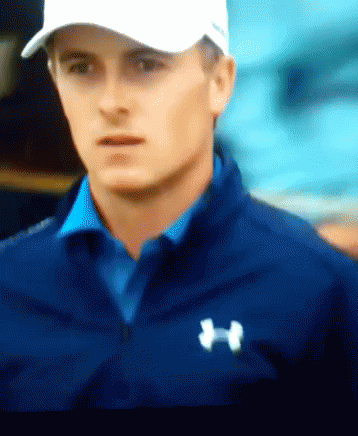 We then finished our tour by looking at the new TrackMan bays on the end. Same basic design as the original hitting bays (open up the garage door and launch 'em), but a bit larger and with TrackMan equipment. When we got out there, freshman Ryan Voois was warming up for practice using the TrackMan. Tommy and ADdC are already the "older generation" who didn't start out using a TrackMan, but Voois has probably been practicing on a TrackMan for nearly a decade now. Instant feedback on every practice shot is the new thing. Generation TM.
Practice was starting at this point, and everyone was gathering at the TrackMan bays to get started. I hustled back to the putting area so I wouldn't be the guy standing in the corner as Small addressed his team. He got them started on a drill and then came into the putting area to see if I had any questions for him. My questions mostly centered around the 2021 Big Tens at Crooked Stick in Indianapolis. I covered that event, and the Illini trailed Iowa by eight strokes on the back nine, the streak of five (at the time) Big Ten titles in a row slipping away.
And then you could feel the momentum shift. Iowa players started missing 3-foot putts. Michael Feagles threw a dart to four feet on 16 and made the putt. Another Iowa guy three-putts the 17th. And then, on 18, with an Iowa player chunking a wedge, both Tommy Kuhl and Michael Feagles make 4-5 foot knee-knocker putts and the Illini win by one. Team momentum, just like a basketball game or a football game, could be felt by every fan in attendance. Here come the Illini.
Small's answer brought it all back to the facility. The preparation he does with his team so they're ready for that moment. The ability to put them in those situations before they're in those situations. Mental work as well as physical work.
Which brings me back to swing thoughts. When I walked in, Small and ADdC were discussing something about the right shoulder. I don't know if it was full swing or chipping or putting or what. But this facility allows for all of it - seriously, every single part of that - to be worked out before the season starts.
Was it chipping? Well, there's an entire room with a high ceiling and many different grasses (and grains) to chip off and work it out. Was it full swing? Hop into a TrackMan bay, send it, and then see the exact result on the screen. Was it putting? Program the green to give you the exact putt you're struggling with (left to right, right to left, uphill, downhill) and then build the muscle memory.
That's college athletics, right? If you build it, they will come. Ryan Voois is in that TrackMan bay and Max Herendeen will join him next year because the Demirjian family and the Lauritsen family and the Wohlers famliy (and others) all decided to invest in the future of this program. We have The Top Putting Facility In The Nation because fans got involved, donated funds, and made what was an already great golf facility even better. We've won 12 of the last 13 Big Ten titles - yes, 12 of the last 13 - because we combined a great coach with great facilities and landed great recruits.
Now, this year, at Grayhawk in Scottsdale, we'll make another run at that elusive national title. Those trophies in the photo at the top say semifinalist, semifinalist, semifinalist, and second place. Only one trophy left to add, and in 2023, it will be Tommy and ADdC leading the charge.
And if you guys happen to have a slightly downhill right-to-left putt from, say, 12'-5", leave it just below the line with a little more pace.
Draino.